The Bell 525 Helicopter Cabin Looks Like A Throne Room From Star Wars
Written by JT on June 20, 2015
From Foxtrot Alpha: 
Bell's 525 "Relentless" super-medium class twin turbine helicopter is attempting to set the bar for technology, capability and if you have the big BIG bucks, luxury. Gone is the traditional narrow fuselage, in its place is a wide and voluminous cabin for designers to play with. Case in point, this unbelievable concept that looks straight out of science fiction.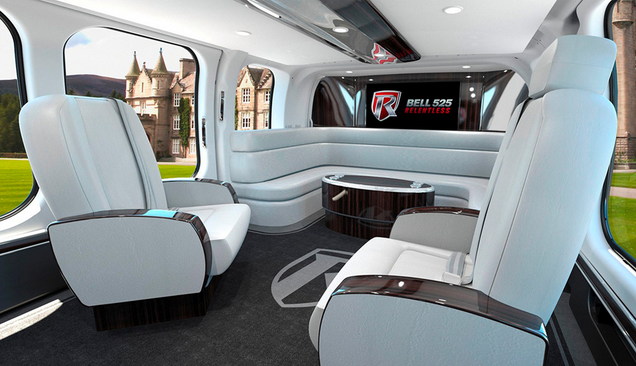 4
In dense, head'n on out to the oil rig configuration, the 525 can carry 16 passengers and two pilots. But when bought as a luxury sky limo that seating number can get cut in as much as half. Incorporating sofas and swiveling recliner like individual seats are also a possibilities as can be seen in the more contemporary concept above, which is also straight from Bell.

Even the Relentless's flight deck is pretty damn plush. Pilots are treated with a side-stick cyclic — no more "stick between the knees" barbarianism!
This is possible because the Relentless is a entirely fly-by-wire machine, with redundant flight control computers interpreting the pilots inputs and intentions, and telling the helicopter's rotors and engine what to do in order to make their wishes come true.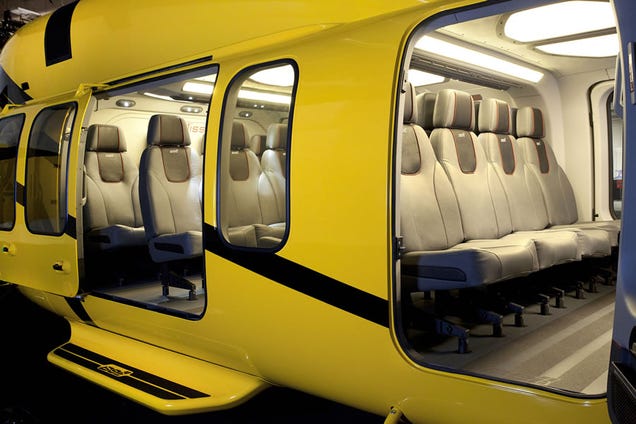 Bell took a crowdsourcing approach to building what they think is the most advanced and safest helicopter-human interface in the world. This is how they explain the result:
The Customer Advisory Panel set very high standards for maximizing crew situational awareness, leading to the creation of the ARC Horizon flight deck system. Key components include the fly-by-wire controls, the Garmin G5000H avionics and the overall cockpit design, which optimizes the crew's field-of-view. The full combination of components delivers proactive hazard intervention with an automatic response to one engine operable conditions and a seamless transition into autorotation if necessary. The touch screen Garmin G5000H keeps pilots informed of aircraft or obstacle hazards using features such as Helicopter Synthetic Vision Technology (HSVT), the helicopter terrain awareness and warning system (HTAWS), and the Traffic Alert and Collision Avoidance System (TCAS-II) for further safety of flight enhancements.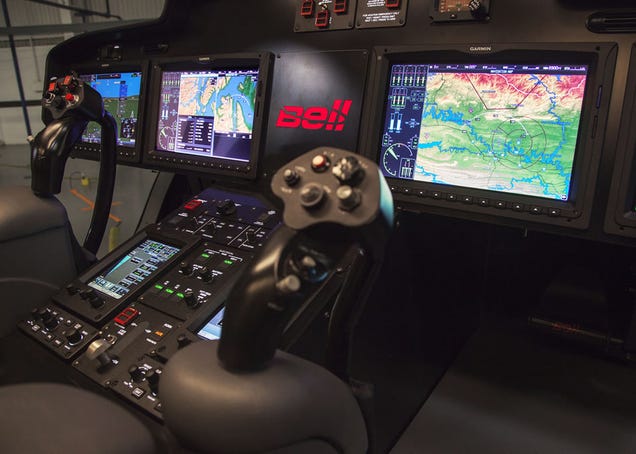 Aviationtoday.com had a chance to play around with this new super cockpit of sorts, as well as its unique and highly automated controls. Instead of the typical "balancing on top of a phone pole" act that helicopters are burdened with all the time, the 525's fly-by-wire controls and advanced avionics make things like hovering, or even moving a little in any direction, almost an effortless affair:
If the flight model of the simulator is an accurate representation of how the actual aircraft will handle, the flying example of the Bell 525 will be as automated or as basic as the pilot wants at any given time. Hover position is held by GPS information, and can be tweaked by displacing the cyclic a half-inch in the desired direction, or with the cyclic-mounted hat switch. Transitioning to forward flight, performing altitude changes and making heading adjustments is a simple matter of moving the controls farther, or "beeping" the hat switches on the collective and cyclic with more authority. To let the aircraft capture and hold the new numbers, just let the controls go. In fact, if you want to manually manipulate one control, just grab it and fly it. The 525 will automatically relinquish it to you, and maintain the others as previously directed.
Although the Bell 525 has not taken its first flight yet (but should soon), it is expected to be fast, cruising at 155 knots while possessing a range of over 500 miles while still hauling a decent sized payload. The sleek chopper is being pitched for VIP, energy exploration, rescue and even military missions.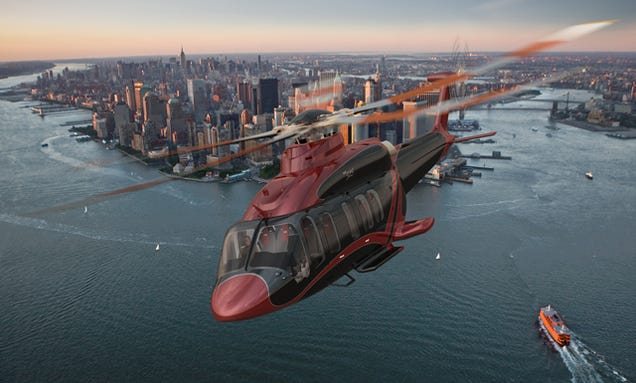 They say the ultimate luxury is a helicopter, and this just so happens to be one of the most capable and high-tech executive helicopters ever created. As such, it does not come cheap. Her twin 1,800hp turboshaft engines are thirsty, as a result it will run about $3,500 for each fill-up. The 525's window sticker is a whole other story, predicted to be around around $15 million, and it goes up from there when you start going nuts on the interior design.
At a price of $15 million its brings a buyer just a couple million shy of a mid sized Citation Sovereign private jet. But then again, if you have mega bucks, or your company is big enough to be operating a Bell 525, then the private jet thing is probably already well taken care of.
Still, for the person that has everything, a flying throne room that looks like it's right from the planet Naboo that can take off, haul you and your entourage 500 miles and then land vertically is probably pretty damn attractive. As such, Bell hopes there will be "relentless" demand for their new super-chopper. See what I did there?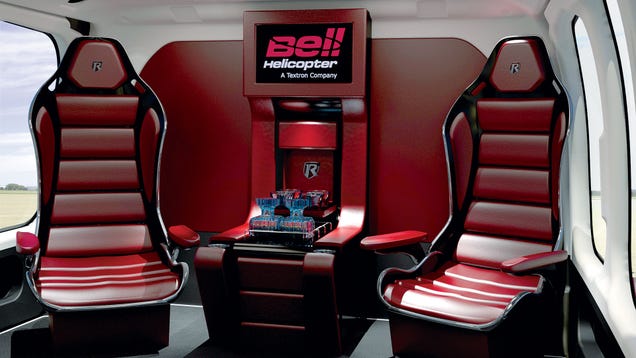 Photos via Bell
---
Reader's opinions
---