---
Airbus rolls out it's first mid-haul 'Boeing Killer'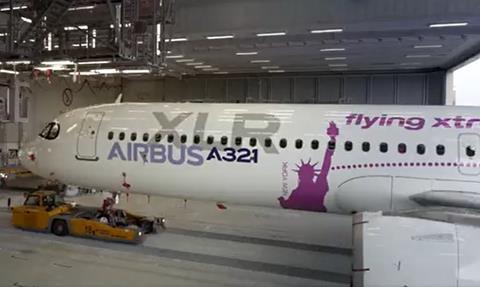 Flight Global reports that Airbus has unveiled its first A321 XLR to the world.  Sporting a new livery that will undoubtedly be appearing at aviation trade shows very soon, the 321 XLR has already garnered a treasure trove of orders which topped 500 last March following a commitment from Air Canada.  Many international heavyweights have invested in the XLR, including United Airlines, American and Qantas.
The A321 XLR, capable of hauling 180 passengers up to a whopping 4,700 nautical miles, is considered by many aviation experts to fill a mid-haul gap left empty by the now-retired Boeing 757.  Boeing's strategy continues to focus on the 737 MAX line despite a multi-year production/certification nightmare resulting from the infamous ACAS controversy which resulted in two fatal crashes.
There is also a big question on the details of the NMA 'New Midsize Airplane' that has been in discussions between Boeing and potential operators for almost a decade; an airframe that would likely have replaced the 757 and competed directly against the 321 XLR in the single-aisle, mid-haul market.  At present, it is clear that Boeing is years away from producing an aircraft that will compete against the range, versatility and fuel-burn advantages anticipated for the A321 XLR.
While there is still a bit of road to travel with respect to testing and certification, the 321 XLR is reportedly on-track to enter service in 2023 and will form the backbone of many mid-haul routes; particularly the lucrative trans-Atlantic market which is far less reliant on the traditional hub-and-spoke approach that dominated prior to Pandemic.
---
Reader's opinions
---